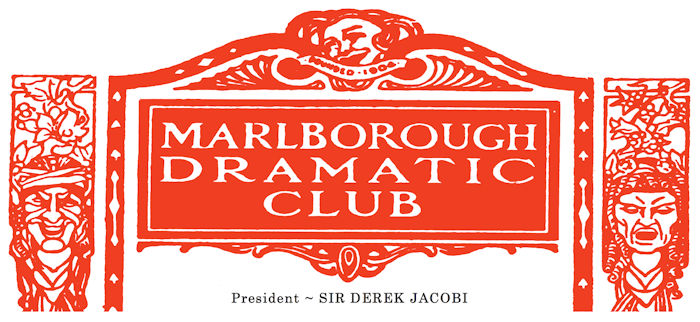 The MARLBOROUGH DRAMATIC CLUB are presenting THE LADYKILLERS by Graham Linehan

Production dates – 22nd, 23rd, 24th October 2020 at Brentwood School Memorial Hall.
NEW AUDITION DATE/VENUE ADDED: for those who where unable to come on February 27th we are now also holding auditions on Tuesday March 3rd 2020 at 7.30 - 8.00 P.M, at Bill Wells house, 7 Burses Way, Hutton, CM13 2PL

The play will be directed by Louise O'Connor (phone 020 – 8553 – 9322).
Please contact Louise if you are interested in auditioning but unable to attend on February 27 or March 3rd.

Synopsis :
A sweet old lady is pitted against a gang of criminal misfits who worm their way into her home . . .
Characters :
Constable MacDonald – local 'bobby' who knows the old lady well

Mrs. Wilberforce – the sweet lady who lives in a ramshackle house

Professor Marcus - the cunning leader of the 'gang of 5'

Major Courtney – a cut above the rest of the motley crew

Harry – cheerful young spiv – game for anything

One Round – heavy ex-boxer – has very little in the 'brains' department

Louis – reluctant, grim faced gang member

Mrs. Tromleyton – gushing friend of Mrs. Wilberforce

2/3 elderly ladies – audience at 'musical' performance by the gang
Scripts available to pick up from Harry Morrison, phone 07746-915348 or email This email address is being protected from spambots. You need JavaScript enabled to view it.
Copies are free, but an acting fee of £15 for members or £25 for non-members is required if you are cast in the production.
Click the title above to open the required newsletter.

These are pdf files, many browsers (e.g. Chrome, Edge) already have a built in pdf reader so they should just open for reading in another window.
If you have a Windows/ Mac/ Android device you can download a free Adobe Reader (click here). Linux devices have a built in document viewer, but the Google Chrome browser gives the best results.
Alternatively if you wish you can download the document and save on your device, just right click on the link above, then select "Save Link as .." and you will copy the pdf file to your device.
The Newsletters are produced by Juliette Bird (contact details on Newsletter), or email any news to This email address is being protected from spambots. You need JavaScript enabled to view it.
The Marlborough Dramatic Club has again been nominated by Noda for a Drama award.
The nomination is for our production Yes, Prime Minister.
You can read the Noda report on our production here.

Some photos of the show are here.
Some pictures of the technical setup is here.